PEACE  FROM CANNYSENIORS
A happy and healthy 2016 coming your way – as they say "Forever Young"

Tips for Dog Owners
Preventing Dog attacks in the Community
Keep your dog confined to your property. Ensure your yard has a closed gate, escape proof fencing and that visitors have safe access to the front yard.
Looking after your dog in public places
While in a reserve or public place, you are required to keep your dog under effective control at all times and on-lead unless signage indicates 'off lead'. While exercising your dog off lead it is important to consider other park users. It is quite alarming when a much more aggressive dog attacks a smaller dog and causes extreme physical injury. Upsetting the dog and owner with subsequent vet fees.
Cleaning up after your pet Upset
We recommend the no-fuss plastic bag method for cleaning up after your dog. Place your hand inside the bag, pick up the dog poo, turn the bag inside out and simply seal. Dispose of the bag in an appropriate bin. Many councils provide bags in public places especially dog friendly beachs eg Ocean Grove.
RSPCA's all-new pet grooming service, Pet Parlour offers a complete pet grooming solution for your furry friend, great and small.
Pet Parlour offers a complete solution for your pets' grooming needs – including clipping, brushing, nail clipping, hydro bathing, flea treatment, deodorising and teeth brushing.
Our trained groomers have a wealth of experience in animal care and a passion for making your pooch or feline friend look its best.
Each grooming session takes approximately two hours and pet owners are also able to drop their pet off before work and pick it up looking pampered, preened and polished at the end of the working day.
Bookings are essential. Phone 9224 2281 (Burwood East) or 9401 0222 (Epping) to book your appointment today
RSPCA Burwood East
3 Burwood Highway
Burwood East VIC 3151 (map)
P  03 9224 2281
E petparlour@rspcavic.org.au
Grooming hours:
Monday – Saturday
9am – 6pm
RSPCA Pets Place Ballarat
27 Albert Street
Sebastopol VIC 3356
P 03 5335 5909
E petparlour@rspcavic.org.au
Grooming hours:
Tuesday – Saturday
9am – 6pm
Bookings are essential!

---
---
Terrified Dogs in particular may even try to run away, and can get injured while trying to do so

.
Here are some tips to ensure your pets are safe during the festive season, especially on New Year's Eve:
exercise and feed your pet before scheduled fireworks start – this may help reduce anxiety
if you can, stay home to be with your pet – direct supervision will help prevent injury or escape
close the blinds/curtains, create a comfortable hiding place and allow your dog to go to there to feel safe
ensure dogs are registered, microchipped and are wearing their registration tags – this will help ensure lost dogs are reunited with owners
never tether your dog during times when fireworks are likely to occur as dogs who panic can choke themselves on a collar or lead.
Vet students perform 900 life-changing surgeries!
University of Melbourne veterinary science students are getting set to toss their graduation hats in the air this March, following their final year placements at our North Melbourne shelter recently drawing to a close.
Running since 2012, the vocational program offers each student two weeks of hands-on work experience performing life changing surgeries to our stray patients. In the last year alone, a total of 120 students have conducted 900 surgeries – predominantly desexings.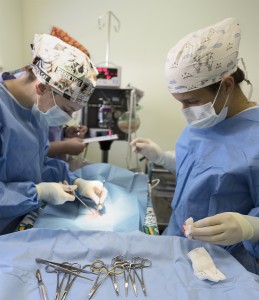 "The tangible experience these vet students gain through conducting or helping conduct surgery simply cannot be learned from a textbook," said our senior veterinarian Dr Alan Bolton
"By the time they finish their second week with us, each student will have a few surgeries under belt and leave much more confident having had practical hands-on experience that is vital for their careers ahead."
Dr Bolton said learning the ropes at a shelter had many benefits to students.
"Students who do their placement at a shelter are more exposed to real life scenarios, cases and issues," he said. "They leave with a realistic understanding and an awareness of the social issues – for instance, the overpopulation of cats – that exist beyond the hospital walls."
from: Lost Dogs home, North Melbourne
Adopt a dog from The Lost Dogs Home
Health Checked ✔
Vaccinated ✔
Wormed ✔
Microchipped ✔
Check the website:
The vet team at Frank Samways Vet Clinic.


Almost 80 per cent of all abandoned and surrendered cats and dogs that arrive at The Lost Dogs' Home are not desexed.
Dr. Alan Bolton, senior veterinarian at The Lost Dogs' Home Frank Samways Veterinary Clinic
"The response has certainly reinforced our commitment to continue to offer low cost desexing support to the community, in particular cat owners on a lower income, who dearly love their cats but with the rising costs of living, may find it difficult to outlay the standard fee for desexing surgery."
---
So, why Desex?
We are putting the call out to all cat owners to desex their cat immediately with their local vet ahead of the feline breeding season.
Desexed cats are healthy and happy pets
Desexed cats lead healthier and longer lives; undesexed cats are more likely to roam and be exposed to dangers including being hit by a car, getting into fights, infectious diseases and contracting Feline Immunodeficiency Virus (FIV). Desexed cats are also generally more affectionate and better companions.
Crunching the numbers:
Cats become fertile as early as four months of age and a single female can produce an average of three litters of 4-6 kittens per year. Therefore, It is entirely possible for one cat to have up to 48 kittens each year it is fertile.
In two years, one female cat and its offspring can produce approximately 20,000 kittens.
The bigger picture
Each year, The Lost Dogs' Home cares for more than 30,000 lost, abandoned and surrendered cats and dogs – around 80 per cent of which are not desexed.
That's why community wide desexing is so important to us. By reducing the number of cats being born we hope to reduce the number admitted to our shelters each year.
To find out more information on low-cost desexing visit the National Desexing Network website at www.ndn.org.au.
Pension card holders receive a 10% discount all year at the Frank Samways Vet Clinic. For more information call 03 9329 2755.